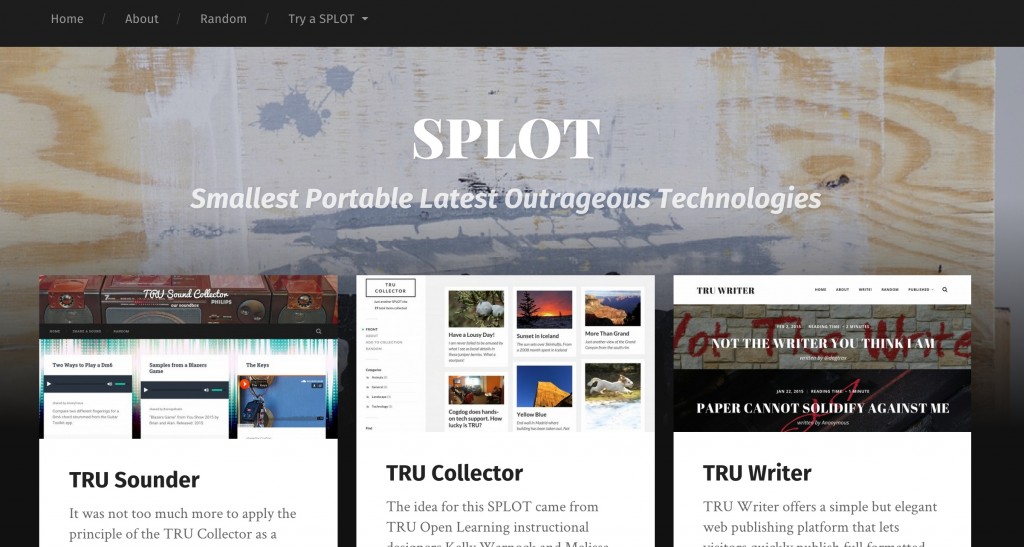 If you're from the edtech world I assume you'll know of the great work of old friends Alan Levin and Brian Lamb (and others, ommissions solely out of ignorance) on the idea of SPLOTs, possibly standing for "Smallest Possible Learning Online Tool." How that idea/approach came to be is surely a long story. I can't find the single origin story from any of these folks, if indeed there is a single one, but my own take would be that it's a combination and culmination of open web/small-pieces-loosely-joined/"learning as creating" thinking they've been doing for years, combined with long-time frustrations with the monolith that is the enterprise LMS (and its overly complex integration approach), the privacy nightmare that is the web and finally with some inspiration from other sectors who are also promoting simple to use web-based content creation tools.
All of which is to say – it's one of the few things in ed tech that has my attention, and because "do whatever @cogdog does1" has always served my career well, I decided to steal the idea and re-purpose for the library world.
I started off a few months back emailing some Co-op staff for ideas, asking for the simplest use cases they could think of and pointing to a few examples I had found,  like Thomas Meehan's MARC viewr http://www.aurochs.org/mrv/mrv.html or Mike Field's SIP testing tool http://www.clcohio.org/sip-testing-tool (though it has no web interface). I also searched some of the usual places I know in the open source library world, and found a few possibilities amongst code4lib's wiki and the library carpentry site. Staff had a few ideas too, like a  "system control number or human-readable mnemonic generator (example gfycat's gfynames)" or a "web-based OAI harvester that lets you filter through payloads by some criteria or does some pre-parsing for you."
So the set of possible ideas was growing, but not certain either a) how many of them would be useful to wider audience of librarians or b) how "simple" they were. Maybe in aiming at tools for librarians I'd picked an inherently complicated (or not web-amenable) set of problems to solve, but I don't think so.

Instead of giving up, I got the spur of the moment idea to workshop the idea at BC's 5th annual code4lib gathering. code4lib very much reminds me of BC's ETUG in the old days – a nice grassroots mix of hands on technologists sharing demos along with a good number technically inclined or interested users (in this case librarians instead of educators) wanting to learn more. So on the second day I proposed a lightning talk which was basically a 2 minute overview of the SPLOT idea and a pitch to come to an afternoon breakout session to brainstorm some further ideas for library-oriented SPLOTs.
I was pretty please we got maybe 15 or so folks to the afternoon session and in just over an hour came up with a number of other ideas. Based on all of these inputs I'd say there are at least 3 or 4 viable contenders that I'll start working on.
But for now all you get is this blog post. I have always admired Alan's approach of "just sharing" the things he's built instead of endless talking and planning to share, and don't want to fall into that trap. But I wanted to write something a) to make a public commitment to keep going with this b) to create a place for library folks to add other ideas, as I know a few said they had some but couldn't attend the breakout session.
---
1 actually the original quote is "Do what ever @dlnorman does," but he's laser focused on PhD and family right now, as he should be, so we don't get to hear what that is very often anymore #IMissD'Arcy